Glass-bottomed pool 500 feet above downtown Houston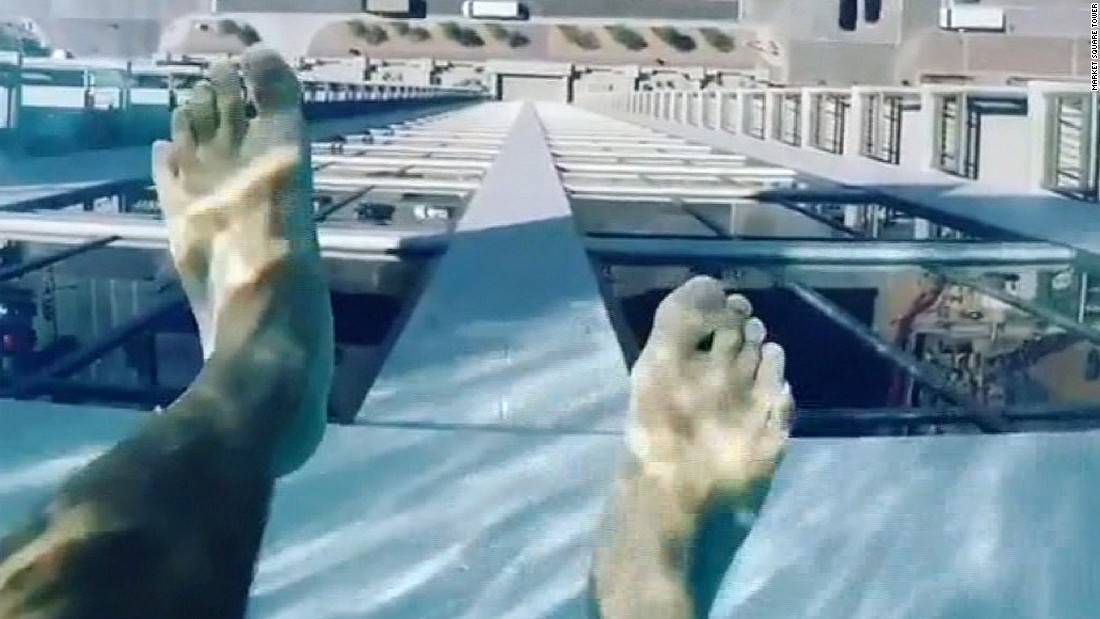 (CNN)If spectacular heights give you that sinking feeling, then this is not the swimming pool for you.
The clip shows a brave soul slipping their bare feet along the pool's eight-inch-thick plexiglass bottom, which sits out 10 feet from the side of
Market Square Tower
.
It's being billed as the tallest pool in Texas and the only glass-bottomed pool in Houston.
A post shared by Market Square Tower (@marketsquaretower)
Viewers around the world are split between wanting to plunge right in or grab their towel and run.
Anyone wanting to try it will have to befriend a resident though. The pool, which opened in October 2016, isn't open to the public.
The building was designed by Houston's Jackson & Ryan Architects and is the centerpiece of a wraparound rooftop terrace with views of the Houston skyline and Buffalo Bayou Park.
For less gung-ho residents, there's a second resort-style pool on a lower terrace. It's not the only Houston pool to make a splash recently.
And if you're looking for apartment buildings with that added extra, you could always try Chongqing, China.
The southeastern city
has been getting creative
with its housing and transport solutions to accommodate its 49 million residents.
There's a new 19-story apartment building which is not only close to the train station, but has a light-rail passenger train passing right through its middle.
There's even a transit stop inside, on the sixth through eighth floors.
Read more: http://www.cnn.com/2017/04/11/travel/houston-glass-bottomed-pool-texas/index.html